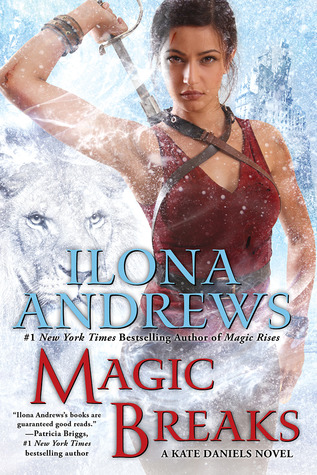 Magic Breaks

by Ilona Andrews
Series: Kate Daniels Series
Published by Penguin Group (USA) Incorporated
Published on 2014-07-29
Genres: Fantasy, Fiction, General, Paranormal, Urban, Urban Fantasy


No matter how much the paranormal politics of Atlanta change, one thing always remains the same: if there's trouble, Kate Daniels will be in the middle of it… As the mate of the Beast Lord, Curran, former mercenary Kate Daniels has more responsibilities than it seems possible to juggle. Not only is she still struggling to keep her investigative business afloat, she must now deal with the affairs of the pack, including preparing her people for attack from Roland, a cruel ancient being with god-like powers. Since Kate's connection to Roland has come out into the open, no one is safe—especially those closest to Kate. As Roland's long shadow looms ever nearer, Kate is called to attend the Conclave, a gathering of the leaders from the various supernatural factions in Atlanta. When one of the Masters of the Dead is found murdered there, apparently at the hands of a shapeshifter, Kate is given only twenty-four hours to hunt down the killer. And this time, if she fails, she'll find herself embroiled in a war which could destroy everything she holds dear…
The ARC was provided by the author/publisher through NetGalley in exchange for an honest review.
I haven't been a book review blogger for very long. I do it because I enjoy reading books and I love sharing my thoughts on them and also promoting the books that I think are awesome. The perk that I've never really thought when about when I started writing was getting ARCs (advance review copies). Oh man I loooove them! Especially when it's from my favorite author and it's a book that I've been eagerly anticipating since last year. How freaking cool is that!?? I was the happiest girl alive when I received the ARC for Magic Breaks, I felt like walking through air, my glee could not be measured. I love this series, couldn't wait to get my hands on it. After reading book 6, I was intensely curious on how the story will proceed from then on. If you haven't read this series yet, please stop reading  and check out my review of book 1 here. It's one of the best urban fantasy series I've ever read, I could not recommend this book highly enough. This review will be spoiler free for book 7, but if you haven't started the series yet, the next bit of information will spoil the series up to book 6 for you.
Magic Breaks starts out with Barabas' account of what has happened so far. It's a summary of what happened from book 1 to book 6. It's a treat to read all that has happened from another point of view other than Kate, I think the recap did great job of summarizing all that has happened so far, which is helpful for readers who are new to the series and also for long time readers who just needed a refresher.  The book started picking up pace, much like how the earlier books did — with a murder. A murder that put the shapeshifters and The People in a position that could easily escalate to a full-on war.  Kate had to find out who did it or the consequences could lead to bloody chaos. Solving this murder led Kate and his handpicked shapeshifters  to a merry chase around Atlanta. I've always loved reading about the camaraderie of characters in books, especially in this series. Aside from Kate's badassness, it was what drew me deeper in this series. The humor and how the character played off each other makes the story more entertaining and give the characters their unique voice and personality.  It's present in all of the Kate Daniels book, and even in the dire situations humor still manages to seep through the cracks. The part with Kate's strange "mode of transportation" had me laughing my heart out for quite a bit. Watch out for it wink Characters I came to love along the way were given more page time in this book (Derek and Ascanio), and they're pretty funny together. Watching the two teenage sphapeshifters whose loyalty to Kate is unquestionable, exchange sarcasm and one liners were hilarious. I was also delighted to know more about some characters I've only seen in passing like Robert, the alpha of clan Rat, and Ghastek, the erudite master of the dead. I knew very little of Robert before, it was good to get more of his personal and his clan's backgrounds and activities. I've always found Ghastek intriguing, he has this semi-cordial professional relationship with Kate, learning about his background in this book surprised me a great deal, it made me understand him more. Characters make me really love a book and this one has a hell of a cast and I somehow get attached them all which makes me really sad when one dies. But the hateful ones, oh they'd get their due, they'd get the punishment they rightly deserve. Punishments were delivered with interest. It was Kate satisfying her violent, vengeance-seeking and blood-thristy side.
In book 6, we saw Kate fight it out with the sociopathic, lethal and at times dangerously charming Hugh, who was hell bent on having her.  After that fantastic fight, followers of the series know that the next one in line coming for Kate is the biggest bad in town – Roland, the Big Kahuna himself, since her secret is out and there's no more hiding from him.  We are all expecting it, Kate has said numerous times that that he is coming for her.  And this is the book where we actually meet the man – the legend himself. I've always been intrigued about who Roland actually is, we get bits and pieces of his character and background from Kate all through out the past six books. What she knows of him are stories and information gained from her foster father Voron and others who knew Roland. I was sometimes conflicted on how to view Roland, he is this uber-powerful demi-god who's virtually indestructible, capable of great atrocities and yet sometimes stories about his humanity slip out. His love for Kate's  mother and disappointment when his children turned out to be destructive little monsters. He's a complex character who cannot be easily be boxed in the stereotype of  maniacally-laughing-evil-doer who is doing all these villainous things for the sake of just doing evil. I actually love that about Roland's character, a mix of ruthlessness and humanity. Having said that though, I was still left feeling unsatisfied with his whole appearance. I was actually expecting one big spectacular showdown between him and Kate. I have mix feelings about that, because on one hand though I was kind of happy there was no big final fight between the two of them because I  think Kate's power is just nowhere near Roland's yet, she might probably lose and a lot of shapeshifters will probably die in the process. I'm guessing that one will come in the final book. We get to meet another of Kate's ancestor and get sweep into a far away tower where vampire hordes abound.
All in all I love Magic Breaks, my only comment is that Roland's appearance felt too brief, for all the build up that was generated for the past 6 books. I wished there was more of him, more conversation between him and Kate, more interaction. It's a good thing that this isn't the last book ( as was originally planned), there are three more planned for the series.  It's a very good read, still action-packed with the trademark witty humor. It may not be as spectacular as some of my favorites in this series ( book 3, 4, and 6) but I still highly recommend it. I'm looking forward to three more books!
Magic Breaks will be available on July 29,2014.
The following two tabs change content below.
I have an addiction for reading, I have an unholy love for it. I sometimes have to force myself to go out and see the world and be with friends and other people instead of curling up with a good book at home and a cup of warm tea.
Latest posts by Kate @ Sporadic Reads (see all)