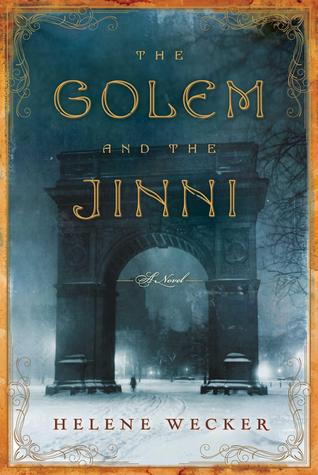 The Golem and the Jinni

by Helene Wecker
Published by HarperCollins
Published on 2013-04-23
Genres: Fantasy, Fiction, Historical, Jewish


Helene Wecker's dazzling debut novel tells the story of two supernatural creatures who appear mysteriously in 1899 New York. Chava is a golem, a creature made of clay, brought to life by a strange man who dabbles in dark Kabbalistic magic. When her master dies at sea on the voyage from Poland, she is unmoored and adrift as the ship arrives in New York Harbor. Ahmad is a jinni, a being of fire, born in the ancient Syrian Desert. Trapped in an old copper flask by a Bedouin wizard centuries ago, he is released accidentally by a tinsmith in a Lower Manhattan shop.Struggling to make their way in this strange new place, the Golem and the Jinni try to fit in with their neighbors while masking their true natures. Surrounding them is a community of immigrants: the coffeehouse owner Maryam Faddoul, a pillar of wisdom and support for her Syrian neighbors; the solitary ice cream maker Saleh, a damaged man cursed by tragedy; the kind and caring Rabbi Meyer and his beleaguered nephew, Michael, whose Sheltering House receives newly arrived Jewish men; the adventurous young socialite Sophia Winston; and the enigmatic Joseph Schall, a dangerous man driven by ferocious ambition and esoteric wisdom.Meeting by chance, the two creatures become unlikely friends whose tenuous attachment challenges their opposing natures, until the night a terrifying incident drives them back into their separate worlds. But a powerful menace will soon bring the Golem and the Jinni together again, threatening their existence and forcing them to make a fateful choice.Marvelous and compulsively readable, The Golem and the Jinni weaves strands of folk mythology, historical fiction, and magical fable into a wondrously inventive and unforgettable tale.
As an avid reader, it's not always easy to find something that you haven't read before. Finding something to read that is unique and well written is a rare treat. So when I find one, with a promising premise and an intriguing title do just that, you can color me happy! The title of this book alone was enough to pique my curiosity as to its contents. A Golem and a Jinni, I thought what an odd pairing of characters to bring together in a book. What could possibly bring two strange creatures together and what is the story behind it? I have read some books with golems in it, as far as I remember they are portrayed as these freakishly strong and almost invincible creatures who usually stands in the way of some warrior in a quest; as for the Jinni, I suspected it's the same as genie, as in the lamp-dwelling, wish-granting big blue guy from the Disney movie Aladdin. I thought the book was some sort of magical fairy tale, a light and entertaining read at most. But as I finished reading it, I was just stunned at how incredibly beautiful, rich, and deep it turned out to be.
In the story the Golems are described in the story are creatures created usually for protection or brute force, a lumbering, unthinking slave. They are made to obey their master's every will, as they are bonded to them when they are created. A man named Otto, who will soon sail to America, had a different idea and wanted a golem who could pass for a wife. He approached a practitioner of the dangerous Kabbalistic arts to do it for him. His golem though was a bit more special as she was given certain personality traits like curiosity and intelligence. On the steamship (it was set in the year 1899) to America though, Otto unexpectedly died living the Golem on her own. Masterless, alone and bewildered because she could hear other's desires and fears, the golem wandered the streets of New York until a kindly, old, and retired rabbi found her, recognizing what she was and took her in. He was the one who named her Chava.
Jinns on the other hand are long-lived creatures of the desert with many forms and abilities. One jinni in particular appeared out of nowhere in another part of New York, in a tinsmith's shop. The tinsmith was repairing an old copper flask when a strange, naked man with iron cuffs across his wrist, suddenly appeared on his floor. The Jinni had no recollection of how long he has been trapped in the flask or how he was captured. In his true form, the Jinni can summon winds, take the shape of any animal and enter dreams, but he now finds himself trapped in his human form unable to access those abilities, to his great frustration. In order to adapt to his new circumstances, he worked out a deal with the tinsmith, to work with him in his shop as he learned the ways of the place and time he was in. If he was to work with the tinsmith and interact with others he needed a name, and so he was named Ahmed.
Chava and Ahmed would live out their own separate lives oblivious to the existence of the other for a couple of more months before they finally meet. While both are curious in nature they have very different personalities. Chava is more innocent of the world and very conscious of the effect of her actions to others. Ahmed is more careless and impulsive in his pursuit of his pleasures. Their difference is a point of contention between them but it's also how learn a lot from each other. They soon form a profound connection that's not easy for me to describe, because it's more than a friendship but not exactly just romantic one either. I don't know what to call it, theirs is borne out of finding someone who deeply understands you in a way no other ever does, someone seeing you as no else would or could. All that developed without the all consuming physical attraction that sometimes confuse things, there was no need to question if their connection is just the result or side effect of that. It's beautiful how their connection unfolds, slowly and honestly.
This is a masterful work of art, the story just flows smoothly. It's not action packed or fast paced but it kept me glued to it, hanging in every word, excited for the next page. It introduced me to cultures I'm not familiar with and lands I've never even dreamt of going. The writer has a way of immersing the reader deep into her story, gently and convincingly. All the characters, even just the minor ones are written so that we can have deeper understanding of their lives, actions and motivations, but it was done in a way that was balanced as to not overwhelm the reader with too much information all at once. It was clear that the author took time and care with each of them, even the ones who appear briefly. Not one of them are just straight up good or evil, they are all shades of gray just as people are in real life. The strong characterization is what I think made this book really enjoyable. Aside from the well fleshed out characters, I loved how the connection between the different threads of story came together in the end, weaving a brilliant and colorful story. On top of that, it also opens up some very profound philosophical questions about religion, belief in God, freewill, loneliness and nature of soul to just name a few. It made stop and ask myself some of the questions the characters asked themselves.
I don't exactly know if I wrote my review in a way that gives this book the justice that it deserves, because it was just so marvelous. It's just so simply stunning and must be read to really experience its beauty. If you're partial to fast-paced books, I advice to give it some time and patience at first for it to capture you, it's definitely worth the investment.
The following two tabs change content below.
I have an addiction for reading, I have an unholy love for it. I sometimes have to force myself to go out and see the world and be with friends and other people instead of curling up with a good book at home and a cup of warm tea.
Latest posts by Kate @ Sporadic Reads (see all)